As an avid reader of Jane's
Sea of Shoes
, I remember the day she posted about
these
gorgeous, gasp-worthy pair of Miu Miu studded leather boots. Unfortunately, after doing some net-a-porter research, my heart dropped when I saw that it retailed for $870. (Note: Just this past weekend, it went on sale for $522!) I don't think I can justify spending that much money on a pair of boots, but when I saw another one of my favorite bloggers,
pinkhorrorshow
looking absolutely flawless in them...I knew another DIY project was about to happen!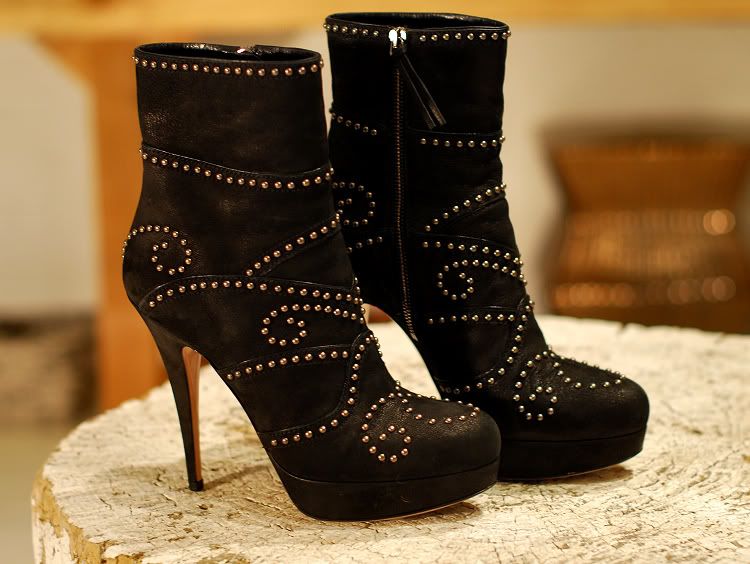 As the base, I used a pair of suede Forever21 platform boots. They are very similar to the shape and size of the actual
Miu Miu boots, so it was a perfect match! You can buy them
here
.
Note: I used 4 1/2 packets of the nailheads to finish the design.
I'm not going to sugar coat it and say that the process was easy. It took me 3 days and countless hours of watching
Food Network to complete. But, I'm extremely pleased with the result! The whole project cost me around $50...
definitely beats the $870 price tag.
Black, White, and Red- classic Chanel colors. I love the billowy, accordion sleeve detail on my Barron Duquette top. Flowy tops always call for skinny jeans and these jean leggings are a perfect fit, especially since they fit right into my Miu Miu inspired boots!